Artist Mark Heckman and writer Mark Newman joined forces to tell the story of Billy Cooper, an environmental superhero who does everything in his power to safeguard the Great Lakes from his headquarters in Michigan's Upper Peninsula.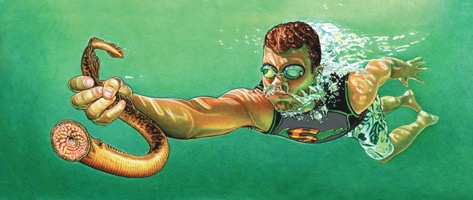 Their book,
Sooper Yooper: Environmental Defender
, and subsequent tour was designed to educate and entertain kids about the importance of protecting our natural resources. From the beginning, their message was simple: when it comes to the environment, everyone can be a superhero!

Buoyed by the success of the book and tour, Newman has published three additional books. The sequel,
Sooper Yooper: The Quest of the Blue Crew,
addresses growing environmental concerns.
Sooper Yooper: H20 (Hero 2 Others)
, serves as the series' prequel, telling the story of Billy Cooper and his journey to becoming a superhero.
Sooper Yooper: Rockman to the Rescue,
coincides with the art exhibition,
Alexis Rockman: The Great Lakes Cycle
, which will be appearing at museums in Grand Rapids, Chicago, Cleveland, Milwaukee, Minneapolis and Flint through 2020.

Click on "Tour Schedule" page for more details about Newman's tremendously successful school program.

Click
here
to "Like" Sooper Yooper on Facebook.