Billy Cooper, environmental defender of the Great Lakes, needs help. From his headquarters in the upper peninsula of Michigan, the Sooper Yooper realizes he has to draw more attention to the invasive species and other forces threatening the largest freshwater system in the world. He enlists the aid of artist Alexis Rockman to cast new light on the lakes with his painted perspectives.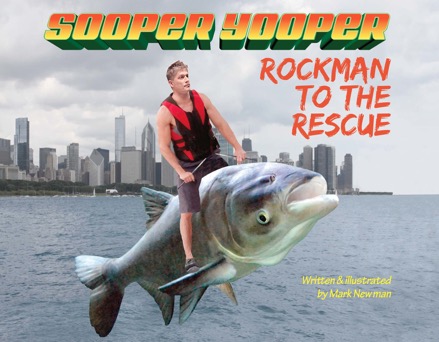 Inspired by the work of the real-life artist, this story offers a glimpse into his childhood interest in nature, then traces his research into the ecological history of the region as he creates the compelling mural-size paintings, large watercolors and botanical drawings that will serve as a call to action to protect and preserve the Great Lakes.

Featuring a cover that illustrates the his worst nightmare (the artist atop a giant Asian carp with the Chicago skyline as a backdrop),
Sooper Yooper: Rockman to the Rescue
was published by the Grand Rapids Art Museum in conjunction with the exhibition,
Alexis Rockman: The Great Lakes Cycle
, which is scheduled to tour the region over a three-year period starting in 2018.